The Valhalla Arms Company Tombstone. It is a 7.62x51mm Designated Marksman Rifle. It was built in response to a competition to replace the Swiss Army's old SG 550 in 5.56. It has a polymer lower and hammer forged upper. It is very reliable. It has functioned in the snow, we dipped it in liquid nitrogen and it still ran. It is about as reliable as the SIG MPX. We went to the Swiss Alps and tested it in the frozen conditions so the Swiss can have a rifle for that kind of landscape. Went out to the Sonoran Desert and tortured the living dog snot out of it, still ran.

SPECIFICATIONS:
- 7.62x51mm
- Takes VAC Tombstone magazines
- 20 inch barrel
- Sights can be replaced
- Rail system
- It can have a suppressor once you attach the adapter
- Direct impingement, gas operated
MSRP: $3,500
Tombstone SBR
Edit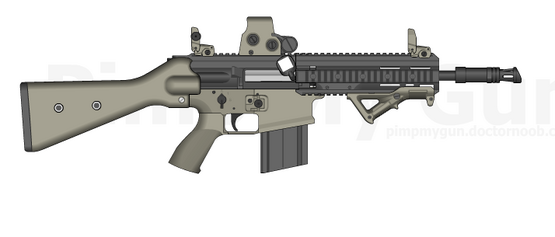 So usually SBR means Short Barreled Rifle. In the Tombstone's case it's Short Battle Rifle. It still fires 7.62x51mm NATO. And it also meets the Swiss military's SG 550 replacement requirements.
SPECIFICATIONS:
- 13 inch barrel
- 7.62x51mm NATO
- Direct impinngement, gas operated.
- Uses any VAC Tombstone magazines.
Comes with Magpul MBUS
MSRP: $2,450
Ad blocker interference detected!
Wikia is a free-to-use site that makes money from advertising. We have a modified experience for viewers using ad blockers

Wikia is not accessible if you've made further modifications. Remove the custom ad blocker rule(s) and the page will load as expected.