The SSGL-40 is a single shot, break open, 40mm grenade launcher. It was created in 2015 as a much more portable 40mm grenade launcher. Instead of a traditional break open like a M79 the barrel instead slides forward by pushing the ambidextrous lever on the side of the gun down. It comes with our 4x Optical Grenade GunSight (OGGS), a fixed skeleton stock, and a lower rail system to attach grips or other attachments. Initially this was designed or MOUT. But at VAC we instead decided to make it effective for all combat applications.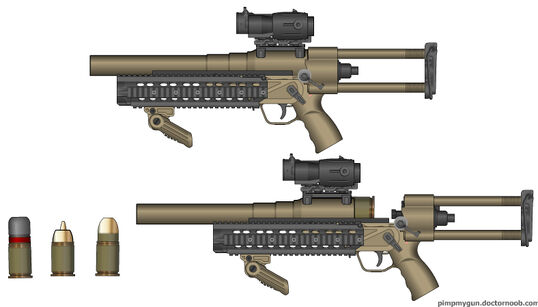 SPECIFICATIONS:
- Cartridge: 40mm grenades
- Single shot 'slide' open
-VAC 4x OGGS sight
- Lower rail system
- Weight: 10 pounds (4.5 kg)
- (After some testing it has almost the same range as any other 40mm grenade launcher)
Users:
- US military
- US Special Forces
- Spetsgruppa Alfa
- GSG-9 (Non-lethal applications)
- Numerous police departments around the world (Also used for non-lethal applications)
- Britain's military
- And the Japanese Defense Force
Ad blocker interference detected!
Wikia is a free-to-use site that makes money from advertising. We have a modified experience for viewers using ad blockers

Wikia is not accessible if you've made further modifications. Remove the custom ad blocker rule(s) and the page will load as expected.