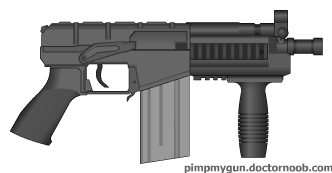 Weapon Name:UAP-20
Type Weapon:Universal Assault Pistol
Country of Origin:Germany,USA
Caliber:5.56x45mm NATO,5.56x19mm NATO, 5.45x39mm M74
Mag Capacity:20-30 Round Magazine (5.56x45mm NATO),30-40 Round Magazine (5.56x19mm NATO),20-30 Round Magazine (5.45x39mm M74)
Select Options:Semi-Automatic,3 Round Burst,Full Automatic
Introduced In:2013
Service Length:2013-Present
Manufacturer:Heckler & Koch,Furey Technologies
BackgroundEdit
Heckler & Koch, as well as Furey Technologies started working together to create the next generation of Machine Pistol and that was the new and improved UAP (Universal Angriff Pistole or "Universal Assault Pistol"). The UAP-20 was the first weapon to use 3 different calibers and even the smallest weapon since the MACH 10.
Ad blocker interference detected!
Wikia is a free-to-use site that makes money from advertising. We have a modified experience for viewers using ad blockers

Wikia is not accessible if you've made further modifications. Remove the custom ad blocker rule(s) and the page will load as expected.