The Thunderbolt Submachine Gun is a weapon made by Accurafire Manufacturing Company (abbreviated AFMC). Quick to draw and with a quick fire rate, there's a reason it's called the Thunderbolt. It comes with dual close range/medium range sights, a compensator, and a 20-round magazine, though an extended 30-round magazine can be ordered.
Features
Edit
Features of the Thunderbolt include:
-Many internal recoil reducing components, as in all Accurafire weapons, as well as a compensator.
-Flip up sights used on the MP7.
-Uses AFMC's new anti-jam system: Force-Lock.
-A Picatinny Rail on the top of the gun to equip optics and/or alternate iron sights
-Compact 20 round magazine (a 30 round magazine can also be ordered)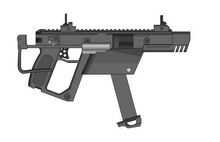 -Fast fire rate
Specifications
Edit
Weight: 3.9 pounds
Length: 12 inches (Stock Retracted) 18 inches (Stock Extended)
Effective Range: 65m
Price (U.S): $480
Ammunition: 9x19mm Parabellum
Ammo Capacity: 20 or 30 rounds
Ad blocker interference detected!
Wikia is a free-to-use site that makes money from advertising. We have a modified experience for viewers using ad blockers

Wikia is not accessible if you've made further modifications. Remove the custom ad blocker rule(s) and the page will load as expected.