I gotta update this
Scotts International (SI) is a company that was founded by Ethan Scotts on April 22, 2016 who was formerly the owner of Accurafire Manufacturing Co. It has many subsidiaries that are responsible for different things. It was made in an effort to expand on Ethan's company.
CEO: Ethan Scotts
Research Department Director: William Johns Director of Advertising: Harold Woodson
Director of Manufacturing: Ronnie Lincoln
Director of Information Department/Customer Service: Jackson Gold
Branch Descriptions
Edit
Head Branches
Edit
Research Department: Self-Explanatory.
Advertising Department: Also Self-Explanatory.
Manufacturing Department: Improves and changes ways of manufacture if needed.
Information Department: Gives customers info. Also fused with customer service.
Customer Service: That's self-explanatory as well.
SI Main Locations
Edit
NOTE: Services from subsidiaries are available at these locations as well.
US: Pheonix, Arizona (HQ)
US: Dallas, Texas
Mexico: Mexico City
Canada: Toronto, Ontario
Russia: St. Petersburg
Germany: Hamburg, Hamburg
-May add on later-
SITech is a subsidiary of SI that designs and manufactures electronic devices with unbelievable abilities.
HoloSmart
Edit
Holosmart is a holographic screen projector that is currently in development by SITech. It connects to a device that it is compatible with (PCs with Windows 7 and later, Mac OSX Mavericks and later, Apple iPhone 6 models) and projects the device's screen on the wall, where it turns into a holographic touchscreen.
Accurafire Manufacturing Co.
Edit
[THIS IS WHERE IT ALL STARTED]
"Accuracy. Firepower. Perfected Every Time."
Accurafire Manufacturing Co. is a gun manufacturing company that designs it's firearms with two things in mind: Accuracy and Firepower. They started out in 2014 making custom AR15 parts and modified rounds, but they now make their own firearms. They also manufacture AR-15 parts for the U.S. Armed Forces. Right now, they are not completely focusing on making new weapons systems but are doing major research on recoil compensation systems.

Director of Materials Research (Research Dep't): Joe McDonald
Director of Factory Department (Manufacturing): Trey Klicker
Accurafire - New weapons
Edit
-CPDW
Guaranteed Victory Series
Edit
-GVS
-GVR
Scout Series
Edit
- "Hammerhead" Underwater Rifle
- "Dragonfighter" Light Machine Gun
ARSE Recoil Spring (Anti-Recoil Spring Enhanced) - It is in most of the newer Accurafire weapons.
Controversy
Edit
On Wednesday, December 26, 2016, Accurafire made an edit to their website, with a section on their home page telling owners of their weapons how to convert the civilian semi-autos to full auto (while also saying by them doing this that Accurafire is not responsible for any consequences that the operator might experience while/after doing this). This caught the attention of gun control activists, who threatened to sue. The activists say that it will make the converted weapon into a more lethal weapon, and that everyone will know how to do it. Accurafire argues that, first of all, there are many other websites/videos which can tell people how the convert their semiautos, and that,
"We don't give a shit about your feelings. We give a shit about our rights." - Bobby Spriggs, Accurafire Executive.
my dudes
Edit
It is rumored that Accurafire is testing GVR Mk. II prototypes. We can only hope.
HeavyFire
Edit
HeavyFire is a sub-company of Accurafire Manufacturing Co. It's job is to design, manufacture, and distribute armored vehicles such as tanks and Humvee-like vehicles, as well as air attack vehicles such as attack helicopters and fighter jets, plus weapons for them. Currently, the only bullet-firing weapon that HeavyFire created is the M280.
TANKS
-HT16
AIR VEHICLES
Edit
-Coming Soon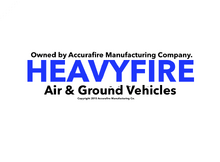 HeavyFire Branches
Edit
HeavyArmored: Armored Vehicle Branch
AirFire: Air vehicles branch
BOATS
"Disabler" LCAB (WIP)
Scotts' Security Services
Edit
Private police force established in early 2016. Often occupy tourist attractions in the US.
Weapons:
-Glock 17 Gen 4
-Glock 23
-Walther P99
-Walther PPK
-Colt Detective Special
-Mateba Autorevolver
-Heckler & Koch MP5K-PDW
-Jatimatic
-Spectre M4
-FMG-9
-MP9
-MP7A2
-MTAR-21
-M4A1 Carbine w/ folding stock adapter
-M21 DMR
-SR-25 DMR
-SG 550
-TAR-21 DMR conversion (long accurized barrel, bipod, ACOG sight)
-L115A3 Sniper Rifle
Vehicles:
-Robinson R66 Helicopter
-Armored Ford F-750 w/ Ford Modular V10
-Humvee w/ SCTV kit
In mid-2016, at Disney World in Florida, a man named Jason Ford pulled out his Vz. 61 Skorpion out from his jacket, and opened fire, killing 3 people and injuring 3 more. A nearby SSS agent pulled out his Glock, and shot the man in the leg. He dropped his Skorpion and fell to the ground. He was quickly hospitalized.
In mid-2016, a man affiliated with ISIS shot his RPG at one of SSS' Robinson R66 helicopters. A professional sniper in the helicopter, named Ivan Phillips, shot the man in the head with his L115A3 sniper rifle, killing him. The terrorist's name was never revealed.
Ad blocker interference detected!
Wikia is a free-to-use site that makes money from advertising. We have a modified experience for viewers using ad blockers

Wikia is not accessible if you've made further modifications. Remove the custom ad blocker rule(s) and the page will load as expected.