The SC4 is an integrally suppressed carbine made by Accurafire Manufacturing Company. It was made to be a silent carbine to be used by the U.S Special Forces. It was made to correct one of the flaws of the SC3 Stealth Carbine, which was that the SC3 had only one Picatinny Rail on the top of the upper receiver; no RAS or underbarrel/side rails to mount accessories. It also does away with the folding stock, in favor of a retractable stock. It comes with MBUS sights, and ordering a CompM4 with it is optional. It also comes with a free foregrip.
Features
Edit
-Suppressor looks heavy but is actually light, and it almost silences the sound.
-Many integral recoil reducing components, as in all Accurafire weapons.
-A moderate fire rate
-MBUS sights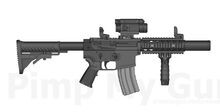 -A Magpul MIAD (MIssion ADaptable) Pistol Grip
-Free Vertical Foregrip
-Strong Frame
-STANAG Magazines
Specfications
Edit
Weight: 5.8 Pounds
Length: 32 inches (Stock Extended) 27 inches (Stock Retracted)
Effective Range: 550m
Price (U.S): $550
Ammunition: .300 BLACKOUT
Ammo Capacity: 30 Rounds via STANAG Magazine
Ad blocker interference detected!
Wikia is a free-to-use site that makes money from advertising. We have a modified experience for viewers using ad blockers

Wikia is not accessible if you've made further modifications. Remove the custom ad blocker rule(s) and the page will load as expected.