Originally called the "Nightstalker" in the prototype stage, the name was dropped due to a weapon already having that name. The SC3 is a silenced carbine made by Accurafire Manufacturing Company. It was made to be a very silent carbine without using a large and bulky silencer/suppressor. It has a Picatinny rail on the top to equip optics or lasers such as the AN/PEQ series. It comes with Troy Folding Sights- front and rear.
Features
Edit
Features of the SC3 include:
-Many internal recoil reducing systems, as with all Accurafire weapons.
-An integrated suppressor/silencer
-The G36 pistol grip, trigger assembly, and fire selector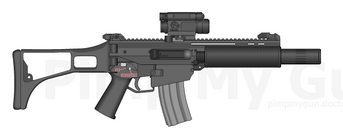 -It has a light trigger pull
-A lightweight suppressor/silencer
Specifications
Edit
Weight: 4.5 pounds
Length: 30.1 inches (Stock Unfolded)
Effective Range: 450m
Price (U.S): $550
Ammunition: .300 Blackout
Ammo Capacity: 30 Rounds
Ad blocker interference detected!
Wikia is a free-to-use site that makes money from advertising. We have a modified experience for viewers using ad blockers

Wikia is not accessible if you've made further modifications. Remove the custom ad blocker rule(s) and the page will load as expected.