Description
Edit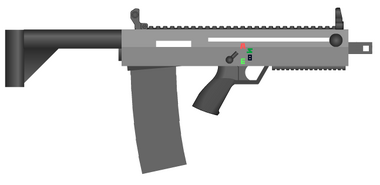 The Psychofagos is a new selective fire, bullpup carbine developed by Striker Armaments.It is currently competing against the CLBR Bullpup Rifle. It fires the 7.62 NATO round. 5.56 NATO versions are also available. It features an adjustable stock. It was succeeded by the Igemonas, and later the Psychofagos 2. The technical specifications are as follows:
Weight: 3 kg
Length: 700 mm
Barrel length: 400 mm
Caliber: 7.62 NATO, 5.56 NATO
Magazine size: 35 rounds
Fire modes: Auto, semi-auto, 3-round burst, safe
Rate of Fire: 750 RPM
Muzzle velocity: 810 m/s (7.62), 930 m/s (5.56)
Operation: Short stroke, gas operated piston
Effective range: 375 m (point), 700 m (area)
Psychofágos 2
Edit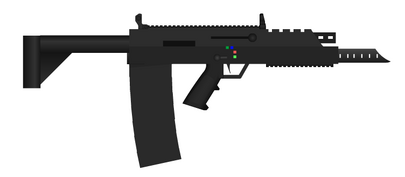 The Psychofagos 2 is a newer, improved version of the original Psychofagos. This one has a darker finish, better recoil control, more power, more range and is better equipped for CQC. It comes pre-installed with a bayonet version of the Gabriel. It is also suppressible. It is also modifiable to accept multiple rounds (but don't expect it to be able to fire .338 Lapua Magnum; the SR-1 is better suited to that task). Its competitors are the 2016 CLBR Bullpup Rifle, and the 2016 PPF Zugzwang.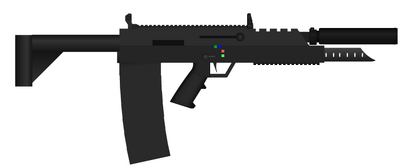 Technical stats:
Weight: 4 kg
Length: 722 mm
Barrel length: 450 mm
Caliber: can accept 5.56 NATO, 7.62 NATO, .45 ACP, .300 Blackout, .50 AE (stats given only for 5.56 NATO)
Magazine size: 35 rounds
Fire modes: Auto, semi-auto, 3 round burst, safe
Rate of fire: 820 RPM
Muzzle velocity: 1070 m/s
Operation: Short stroke, gas-operated piston
Effective range: 500 m (point), 950 m (area)