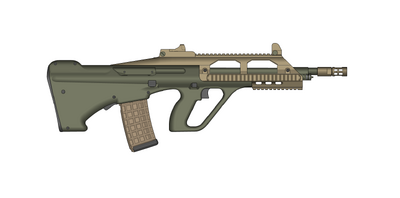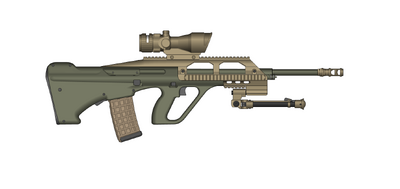 To keep up with the demand of the growing Australian military, RDI has been building and designing components for the Austeyr for more than a decade, including trigger packs, magazines, receivers, bolts, and such to be assembled by the Lithgow Small Arms Factory. In 2010 RDI bought production rights for the Steyr Aug to design their own variant to compete directly with the French/Australian Thales F90 in the global market. The RDI boats several improvements over the standard Steyr Aug variants including an improved light trigger, improved ergonomics, significant weight reduction, improved gas system, longer rail space, and a forward ejection system.
During the prototype phase many problems were encountered with the forward ejection system especially when it came to clearing malfunctions. So the RDI engineers added a removable ejection port that can be easily slotted in an out of place. The Engineers also redesigned the stock trigger on the Steyr Aug, notorious for being incredibly heavy and in some cases detrimental to accuracy. They were able to produce a rafter crisp, light 5lb trigger for the RA-10. In 2015 the project ended it's prototype phase with intense torture tests where the RA-10 performed exceptionally with only 110 stoppages in 40,000 total rounds in adverse conditions. As of 2016 the RA-10 has entered into its production phase and has been placed as potential bids for current military modernization and replacement competitions such as; Germany, New Zealand, France, Argentina...

The RA-10s was designed as a smaller and lighter version of the RA-10. It was made to serve as a counter terrorism platform for the Australian Police Tactical Group, the New Zealand Special Tactics Group, and the SASR. Besides being more compact it can be integrally suppressed and is chambered to fire the .300 Blackout cartridge. It is currently being marketed to other counter terrorism groups effectively competing agianst the 
AFA N-63 , R-523 , VAC Valkyrie Mk. 2 , RC-523, PPF XM18
and the 
VAC Dire Wolf.
Specifications
Edit
Weight: 7.2 lb (Empty),  6.9 lb (RA-10S empty)
Length: 26 in (Standard),  24in (RA-10S)
Barrel length: 20.0 in (Standard), 16in (RA-10S)
Cartridge: 5.56×45mm NATO (standard), .300 AAC Blackout (RA-10S)
Action: Gas-operated, Short stroke, rotating bolt
Rate of fire: 680–750 rounds/min
Muzzle velocity: 3,182 ft/s (standard), 2,295 ft/s (RA-10S)
Effective firing range: 1200 ft
Maximum firing range: 8,900 ft
Feed system: STANAG magazine compatible
Sights: Removeable Iron sights with Integrated Emitted Light Optic.
Ejection: Forward
Ad blocker interference detected!
Wikia is a free-to-use site that makes money from advertising. We have a modified experience for viewers using ad blockers

Wikia is not accessible if you've made further modifications. Remove the custom ad blocker rule(s) and the page will load as expected.