This page was made for people to show off their pistols, machine pistols, revolvers, hand cannons, and similar weapons. These guns can be real or fictional.
Semi-auto
Edit
Razorback
Edit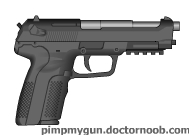 Manufactured by the company Darkstar Weapons Systems, the Razorback is a very versatile handgun. Available in several calibers, this is a very reliable gun. It operates in double-action only mode.
          Razorback Sporter
Edit
A variant of the Razorback, the Razorback Sporter is very different.First of all, it has a stainless steel slide and magazine, extended barrel with compensator, and operates only in single-action mode
Mark XIX Desert Eagle
Edit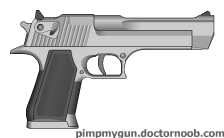 The IWI Desert Eagle is a large-caliber semi-auto pistol. This behemoth comes in three calibers: .50 Action Express, .44 Magnum, and .357 Magnum. A 10" barrel extension is available
Ad blocker interference detected!
Wikia is a free-to-use site that makes money from advertising. We have a modified experience for viewers using ad blockers

Wikia is not accessible if you've made further modifications. Remove the custom ad blocker rule(s) and the page will load as expected.