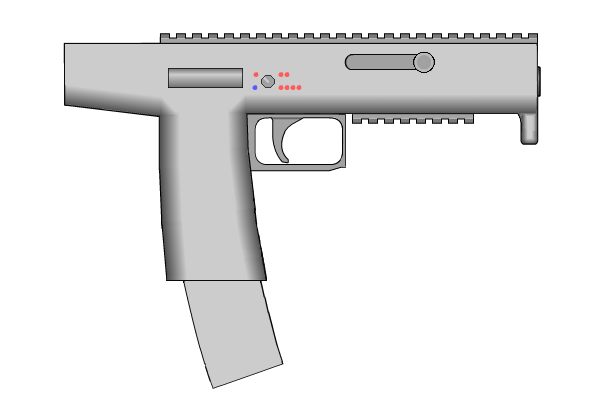 The Selbstverteidigungpistole .20 (SVP20), known in the US as the Personal Defense Pistol (PDP), is a machine pistol developed by the German division of Phoenix Precision Firearms. It fires the .20 KGP round first used in the PPF BG20. Due to the extreme velocity of said round, the SVP20 is easily the most powerful small machine pistol out there, and (mostly due to it being very small, and would've been even smaller if it hadn't been for the minimum required barrel length of its caliber. Using a straight-blowback system, the SVP20 produces a formidable rate of fire of 900 RPM. Keep in mind, the magazine (which is shared with the BG20) supports a rate of up to 1200 RPM, but it was toned down on this weapon due to the lack of a stock on the basic model. The SVP20 has a top and bottom rail for sights, flashlights and foregrips. as well as an MP5K-esque muzzle guard that prevents the used from getting their hand shot off. Due to sharing its cartridge with the BG20, the PGS's standard tank crew gun/light carbine, this pistol is the standard sidearm of the PGS, and who cares if it's a bit bigger than a pistol!
Statistics
Edit
Name : SVP20 
Weight : 1 kg (with empty mag)
Length : 11.5"/29.2 cm
Barrel Length : 6"
Magazine Size : 20/32 rounds
Caliber : .20 KGP
Muzzle Velocity : 1000 m/s
Optimal Range : 2-100 meters
Effective Range : 400 meters
Rate of Fire : 900 RPM