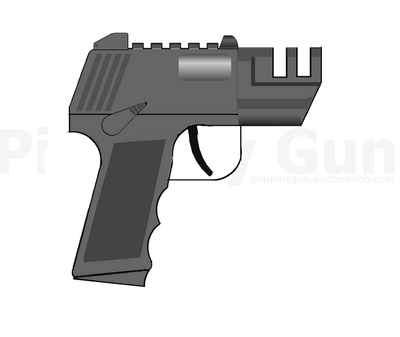 The PPF D-10 (Formerly Codename: Dimitri) is a hyper-compact pistol produced by Phoenix Precision firearms. It was designed for concealed carry.
The Dwarf-10 pistol, officially abbreviated as "D-10", is a semi-automatic, blowback-operated, integrally-compensated pistol firing the mighty 10mm Auto round. With a polymer frame, super-short barrel and a 2-fingered grip (With the mag forming a makeshift 3rd finger slot), the D-10 is the smallest and lightest gun PPF has ever made. Note from creator: It is also the only weapon I made so far using only shapes.
The D-10 has an ambidextrous safety. It is very slim, and has a single-stack 8-round magazine which makes it even thinner, and is double-action, meaning that it does not need cocking. This, combined with its compensator, makes it appealing to women and small-handed men, especially those that are not experienced with firearms.
Statistics
Edit
Barrel Length : 2.8" (Including compensator)
Muzzle Velocity : 360 m/s
Optimal Range : 1.5-40 meters
Effective Range : 100 meters
Rate of Fire : 1000 RPM (Semi-Auto only, so NO, you cannot break your wrist)
Ad blocker interference detected!
Wikia is a free-to-use site that makes money from advertising. We have a modified experience for viewers using ad blockers

Wikia is not accessible if you've made further modifications. Remove the custom ad blocker rule(s) and the page will load as expected.