Nepveux firearm company is a company based out of Beaumont, Texas, USA. We strive to bring you the best rifles made with only the very best materials. All firearms are dreamt of, designed, and built in Texas. Our rifles are rugged and dependable, but lightweight and ergonomic.
We currently have 2 rifles available, but lots more coming.
The PSHG32 is a piston operated, Semi Auto rifle chambered for the 7.62x51mm NATO/.308 Winchester round. It comes with a custom built recoil-reducing polymer stock, Leopold x9 power scope with low light fiber-optic iron sights, folding bipod, Lazer range finder, Magpul angled grip, and custom pistol grip, it is ready for anything. Available in O.D. Green and Gray, 18, 22, and 26-inch barrels.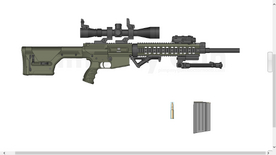 The LRAHR12 is an internally suppressed bolt-action, long range hunting rifle chambered for the .408, but can be converted to the 7.62x51mm NATO/.308 Winchester round. It comes standard with a 29 inch barrel, Leopold x9 power scope with a Mark 73 thermal imaging system, laser range finder, bipod, and custom polymer grip.
Ad blocker interference detected!
Wikia is a free-to-use site that makes money from advertising. We have a modified experience for viewers using ad blockers

Wikia is not accessible if you've made further modifications. Remove the custom ad blocker rule(s) and the page will load as expected.