By UV00
The NS Arms FutureSight is a bolt-action sniper rifle currently in production by NS Arms Corporation. It is the first purpose-built sniper rifle and the first bolt-action weapon produced. It was conjured as a result of the ever-growing market for bolt-action sniper rifles.
Not willing to be left in the dust with regards to bolt-action weapon designs, NS Arms armourers and designers came up with the idea to create a bolt-action rifle, the first of its kind. Designing the weapon spanned a period from November 2015 to late January 2016. The first prototype was unveiled in early February that same year. Further refinement and fine-tuning led to the creation of the finalised prototype and the production model in late February 2016.
With the inception of the FutureSight, the bolt-action rifle market has been expanded. It is currently in contention primarily with the Remington Model 700, Kaizen Corp.'s Kaizen Takedown, and the Model 2013 Vulcan and the M114 Challenger, both produced by Rickard Firearms and Defense. Currently, the rifle is in use with the ground forces of Brunei Darussalam and Malaysia.
Officials at NS Arms have confirmed that a larger-calibre version is in the works.
Weapon Design
Edit
The FutureSight is a conventional turn-bolt bolt-action rifle. The primary design of the FutureSight is inspired by the Zbroyar Z-008 bolt-action rifle. The bolt-action itself is drawn heavily from the Remington 700 and the Z-008. It is primarily chambered in .338 Lapua Magnum, but can be converted to other calibres as well.
Weapon Information

Edit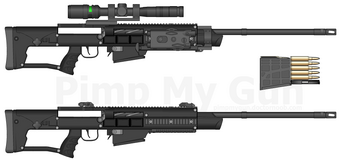 Weight: 14.1 lb (6.4 kg)
Length: 45 in. (1.15 m)
Barrel length: 24 in. (0.61 m)
Cartridge: .338 Lapua Magnum, .338 Norma Magnum, conversion kits for .300 Winchester Magnum, .300 Remington Ultra Magnum, .308 Winchester/7.62x51mm NATO
Operation: Manually-operated, bolt-action
Muzzle velocity: Calibre-dependent; anywhere from 840 m/s (2756 ft/s) to 1000 m/s (3281 ft/s)
Effective range: 1400 m (1531 yds.)
Feed system: 5-round magazine
Sights: Telescopic sights
Attachments: RIS, Picatinny rail, various day & night optics, electronic devices, bipod
Users: Brunei Darussalam (Royal Brunei Land Forces), Malaysia (Malaysian Army)
Ad blocker interference detected!
Wikia is a free-to-use site that makes money from advertising. We have a modified experience for viewers using ad blockers

Wikia is not accessible if you've made further modifications. Remove the custom ad blocker rule(s) and the page will load as expected.