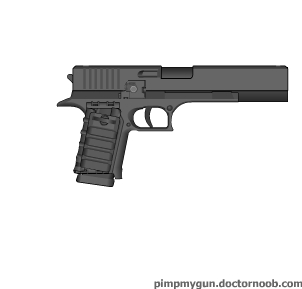 A high-reliability sidearm, the Magpull fires armor piercing rounds with exceptional recoil control and accuracy. Stripped down versions are used for shooting competitions as sport pistols, but the complete version is a deadly force to be reckoned with, and is often seen in the hands of experienced mercenaries as well as veteran police units. Sturdy, reasonably priced, and dependable, the Magpull .250 is a very popular pistol and sells out fast. 
Ad blocker interference detected!
Wikia is a free-to-use site that makes money from advertising. We have a modified experience for viewers using ad blockers

Wikia is not accessible if you've made further modifications. Remove the custom ad blocker rule(s) and the page will load as expected.