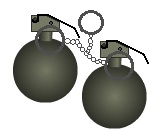 The K-40 is a 4oz grenade filled with
composition 4
high explosives. It is usually thrown in clusters as the picture depicts; this is referred to a "grape bunch" in which they are chained together and you pull one pin which is chained to the two pins that are on the grenade. Usually thrown in groups of 2, 3 or 4. The lethal radius is approximately 12 meters and has preformed shrapnel molded to the inside. Based upon the V-40 mini grenade. 
Ad blocker interference detected!
Wikia is a free-to-use site that makes money from advertising. We have a modified experience for viewers using ad blockers

Wikia is not accessible if you've made further modifications. Remove the custom ad blocker rule(s) and the page will load as expected.