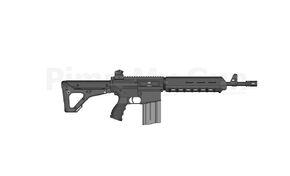 The JK Industries is a 6.5x39mm assault rifle, designed by JKI for the British SAS.
It was well received because it was very customizable, also because of its high precision and fire rate.
In September 9th 2015, the SAS sent to certain companies a request for a gun to replace the Colt Canada, JKI was one of these companies, and they took their P700 SMG design, and heavily modified it into a assault rifle, in that moment, the A70 was born. The JKI final masterpiece, and their goodbye to the firearms industry.
Description
Edit
-Weight: 7.12lb
-Barrel Lenght: 470mm
-Cartridge: 6.5x39mm
-Feed System: Detachable Box Mag. 30 rounds
-Rate of Fire: 700rpm
--Sight: Adjustable rear and front iron sights
Attachments
Edit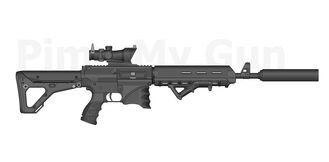 Any rail compatible
attachments, incluiding scopes, flashlights, etc.
Ad blocker interference detected!
Wikia is a free-to-use site that makes money from advertising. We have a modified experience for viewers using ad blockers

Wikia is not accessible if you've made further modifications. Remove the custom ad blocker rule(s) and the page will load as expected.