The HHGL (HandHeld Grenade Launcher) is a weapon made by Accurafire Manufacturing Company. It is a semi-automatic grenade launcher rifle. It has 2 Picatinny Rails. One on the top of the upper receiver, and one below the barrel. It comes with Troy Folding Sights and a compensator, but a SpectreOS Scope can be ordered as well as a folding foregrip. There is a newer version, the HHGL Mk. II.
Features
Edit
Features of the HHGL include:
-Many internal recoil compensation systems as in all Accurafire weapons, as well as a large compensator.
-Troy Folding Sights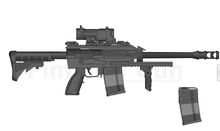 -6-Round Magazine
-HK Battlegrip
-The accurate SpectreOS scope (Optional)
-Folding Foregrip (Optional)
-Retractable Stock, so you can adjust the stock length to your preference. A fixed stock version is now available.
Specifications
Edit
Weight: 14.5 pounds empty
Length: 37.5 Inches
Effective Range: 600m
Price (U.S): $1,500
Ammunition: 30mm Modified BS-1 Grenade
Ammunition Capacity: 6 rounds
The HHGL-A1 is pretty much just an HHGL with Accurafire's Anti-Jam system: Force-Lock.
HHGL-40 (HHGL-A2)
Edit
The HHGL-40 (HHGL-40mm) is a 40mm version of the HHGL.
Specifications (HHGL-40)
Edit
-Mag Capacity: 5 or 10 rounds
-Weight: 15.1 pounds (5 round mag), 15.68 pounds (10 round mag).
-Length: 39 inches
-Effective Range: 500m
-Price (US): $2,500
-Ammunition: NATO 40mm Grenades: M781 Practice Grenade, M651 CS Chemical Grenade, M406 HE Grenade, M433 HEDP Grenade.
Ad blocker interference detected!
Wikia is a free-to-use site that makes money from advertising. We have a modified experience for viewers using ad blockers

Wikia is not accessible if you've made further modifications. Remove the custom ad blocker rule(s) and the page will load as expected.