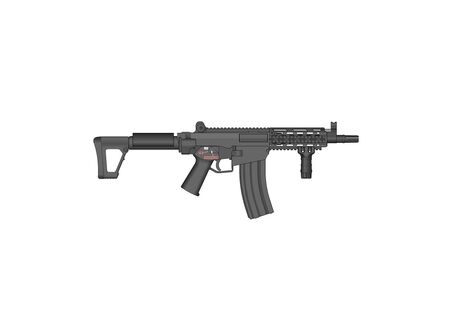 One of Kyle Layton's earliest works. Adapting the design of AR-15 receiver and FN FAL bolt system and layout. Designed to be deployed in confined spaces, smaller dimensions and compactness gives maximum ease of use. The weapon feed system is similar to the VM Tremor receiver. In case of jamming, the half side of the upper receiver's rails can be opened. Fitted with a cheek rest and a rail system.
Statistics
Edit
Universe : Earth-1
Name : HBR Mk. 0
Length : 63.4 cm
Weight : 3.2 kg (unloaded), 3.5 kg (loaded)
Magazine Size : 30 rounds
Caliber : 7.62x51mm NATO
Muzzle Velocity : 900 m/s
Rate of Fire : 720 rounds/min
Fire Mode : Automatic, Semi Auto
MSRP : 1,249 USD
Ad blocker interference detected!
Wikia is a free-to-use site that makes money from advertising. We have a modified experience for viewers using ad blockers

Wikia is not accessible if you've made further modifications. Remove the custom ad blocker rule(s) and the page will load as expected.