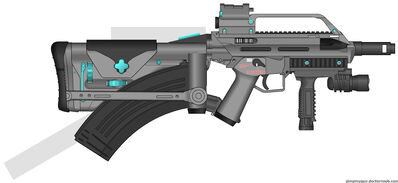 Heckler and Koch's anti-terrorist battle rifle has been in service for seven months now, and we sat down to look at some of its features.
   Being a 7.62x54mmR rifle, its preferred setting is 3 round burst, though fully automatic fire is an option. It utilizes a unique vertical feeding system that allows high capazity magazines to be used with no discomfort to the user. Also, because the way the weapon is built, you can even use the magazine as a monopod for prone shooting. LMG variants use a bipod attachment, but many field agents use a bipod with the standard configuration.
Accessories
Edit
Shown here is the H&K picatinny carry handle/optic, a throwback to the G36 series of rifles, and a M900 surefire weapon light/grip. 
Ad blocker interference detected!
Wikia is a free-to-use site that makes money from advertising. We have a modified experience for viewers using ad blockers

Wikia is not accessible if you've made further modifications. Remove the custom ad blocker rule(s) and the page will load as expected.