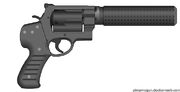 The second of the stealth handgun series of Fox Firearms Industries. It is a 5.7x28 6 capacity revolver. It has a detachable pistol grip.
Like all of the firearms designed by F.F.I. since 2012, it was scrapped by FN Herstal but revived when Ian Fox left FNH and created F.F.I.
Ad blocker interference detected!
Wikia is a free-to-use site that makes money from advertising. We have a modified experience for viewers using ad blockers

Wikia is not accessible if you've made further modifications. Remove the custom ad blocker rule(s) and the page will load as expected.