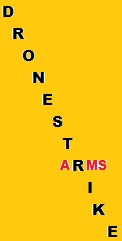 DRONESTRIKE ARMS is a specialty firearm manufacturer. They started out with converting revolvers to 12 Gauge and assault rifles to carbines and SBRs, but have now moved on to being a successful boutique and military arms dealer.
EARLY GUNS
Edit
In 2015, Einar founded Dronestrike after seeing an obvious lack of pistols firing shotgun ammunition. By 2017, the first 12-gauge pistol, the 12GR revolver, was released and he saw exactly why there was a lack of shotpistols. He wasn't exactly getting sales so, by 2019, after only about 200 were sold, he quit making it and moved on to build assault rifle carbine conversion kits. But, whhere he saw most of the guns being sold was in California, who had just banned these guns by calling it an SBS. Just another way gun control is the best thing ever.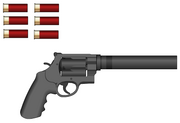 The first of these kits was the G53. This was a carbine based on the Heckler and Koch G53. The gun was a very small rifle, and considered as such, mostly because of the burst-fire and full-automatic settings, so it was banned by the United States, although it was an American-built gun. However, he also built the US-spec G53DC (District of Columbia) and the Micro-G53 assault pistol, which was considered a handgun and easily made into full-automatic.
After the gun went out of production in 2022, they tested guns until 2024, when the first X82 was released. This gun, which was built in Military and civilian style, had an early demise in 2027 after the 2026 New York Shootout that killed hundreds of people and, of course, made liberals want stricter gun control.
The gun itself, however, is still in production, albeit only sold to military personnel.
First Machine Gun
Edit
The first machine gun ever made by Dronestrike was the MG1A1. The machine gun was a heavy Anti-Personnel gun. It fired a 30 round NATO magazine used in the Heckler and Koch G36. It was one of the more extreme guns and even nicknamed "Fortress of Fear" because of the immense power from the Grenade Launcher, Bayonet, and Machine Gun, as well as its immense size that required either an airplane mount or the quad-pod, a design created by Einar himself.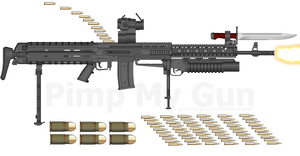 Ad blocker interference detected!
Wikia is a free-to-use site that makes money from advertising. We have a modified experience for viewers using ad blockers

Wikia is not accessible if you've made further modifications. Remove the custom ad blocker rule(s) and the page will load as expected.