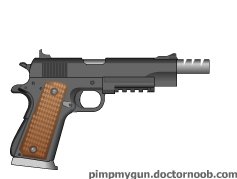 This page is all about custom 1911 pistols. Any modification, color, or style of pistol is welcome. Any carbine or machine pistol conversions are acceptable. If the 1911 posted has so many mods you can't tell what it is, do not post it.
Model A
Overall stainless-steel finish
7-round magazine
Model B
Two-tone finish; black-over-silver
Custom pistol slide
Custom 8-round magazine
Model C
Overall matte-black finish
Custom pistol slide
Removeable compensator
Custom 7-round magazine
Model D
Two-tone finish; silver-over-black
Custom pistol slide
Custom iron sights
Removable compensator and foregrip
Foldable shoulder stock
Custom, extended 15-round magazine
Ad blocker interference detected!
Wikia is a free-to-use site that makes money from advertising. We have a modified experience for viewers using ad blockers

Wikia is not accessible if you've made further modifications. Remove the custom ad blocker rule(s) and the page will load as expected.