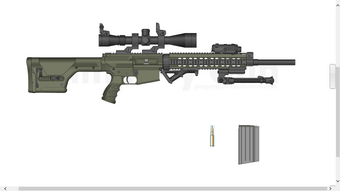 The BH856 is an assault rifle that has many purposes, whether it be protecting the house, or going to war, the BH series of rifles is the way to go. Fast fire rate, without the sacrifice of bad recoil. The 856 includes a magnified holo scope, grenade launcher, and custom grip that allows for rail attachments. The BH series of guns can use many different types of bullets. The red bullet is an incendiary bullet made with technologies made by Torgue, and is the bullet the BH is currently using. The grenade launcher, which comes separately, uses a custom toxic round, good for not just blowing up tanks, but sinking inside, dealing more damage.
Ad blocker interference detected!
Wikia is a free-to-use site that makes money from advertising. We have a modified experience for viewers using ad blockers

Wikia is not accessible if you've made further modifications. Remove the custom ad blocker rule(s) and the page will load as expected.