The AT/AA Launcher MT/AD-1 (Anti-Tank/Anti-Aircraft Launcher Mixed: Tank/Aircraft Destroyer-1 Rocket), is a simple handheld rocket launcher that can shoot AFAT-1 (AccuraFire Anti Tank model 1) or AFAA-1 (AccuraFire Anti-Aircraft model 1) light rockets, and made by Accurafire Manufacturing Company. It is equipped with a scope made just for it, called the Allfinder.
Features
Edit
Features of the MT/AD-1 include:
-Advanced Scope: Allfinder Mk. I
-Recoilless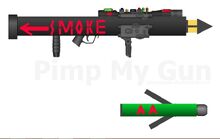 -Can be operated by one man
-Takes light rockets
-Infrared Lasers to pinpoint targets
Specifications
Edit
Weight: 13.6 Pounds
Length: 39.6 inches
Effective Firing Range: 320m (Point Target)
Maximum Firing Range: 640m (Area Target), 2,200m (Maximum)
Price (U.S): $1,350
Ammunition: AFAT-1, AFAA-1
Ammo Capacity: 1 Rocket
Scope Features
Edit
The Allfinder Advanced Scope is truly amazing. Features of the Allfinder Scope are:
-Ability to switch between modes: Regular, Thermal, NV.
-Takes Custom Accurafire Long-Lasting Batteries
-Can Zoom 1-25x
-It tags tanks and aircraft in red by default, but different colors can be set via the buttons on the scope.
Ad blocker interference detected!
Wikia is a free-to-use site that makes money from advertising. We have a modified experience for viewers using ad blockers

Wikia is not accessible if you've made further modifications. Remove the custom ad blocker rule(s) and the page will load as expected.