The AP-3B Mk. II is an improved AP-3B (as it's name suggests) that is made by Accurafire Manufacturing Company. It was made to be a more tactical version of the original AP-3B machine pistol. It has 4 Picatinny Rails to mount accessories. It comes with the same compensator, and it also comes with a different stock than the AP-3B Mk. I. It has a different magazine that holds 30 rounds, rather than the 21-round magazine that the Mk. I uses. It also disposes of the integral foregrip that the Mk. I uses but a foregrip can be ordered with it. It is currently competing with the Hercules Automatic Pistol made by Odin Arms. It is currently being decided if an AP-3B Mk. III should be made to compete in the first perpetual competition.
Features
Edit
Features of the AP-3B Mk. II include: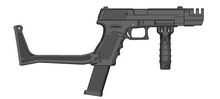 -Low Recoil, even on 3-round burst mode.
-High Capacity 30-round magazine
-4 Picatinny Rails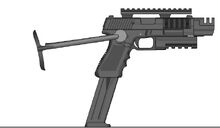 -Improved Pistol Stock
-Uses the new Accurafire Anti-Jam System: Force-Lock
-Even has rails on the sides of the slide!
-A compensator to keep the recoil down
-Many internal recoil reducing components, as in all Accurafire weapons.
Specifications
Edit
Weight: 1,950 grams loaded
Length: 1.2 feet including the stock
Effective Range: 50m
Price (U.S): $450 Civilian Model, $500 Military Model
Ammunition: 9x19mm Parabellum
Ammo Capacity: 30 Rounds
Ad blocker interference detected!
Wikia is a free-to-use site that makes money from advertising. We have a modified experience for viewers using ad blockers

Wikia is not accessible if you've made further modifications. Remove the custom ad blocker rule(s) and the page will load as expected.